Our Communities, Our Home
Our stores are in communities we call home, and these communities are important to us. We believe we have a social responsibility to the environment, our local communities, and our guests. We are most proud of our commitment to helping end hunger, including a focus throughout September, Hunger Action Month.
Our Commitment to Giving
Zallie Family Markets' philanthropic efforts are administered via the Zallie Community Foundation. The Zallie Community Foundation is a 501c3 nonprofit public charity which explores philanthropic activities to strengthen communities in Burlington (NJ), Camden (NJ), Gloucester (NJ), and Philadelphia (PA) counties. Our philanthropy assists local initiatives, regional food banks, and nonprofit organizations with monetary donations in addition to goods and services. Youth groups, first responders, schools and other grassroots organizations look to us for a helping hand. From lunches to celebrate volunteers to gift baskets for fundraisers to event sponsorships, we happily evaluate which requests can most directly enhance our communities. For instance:
Through the Zallie Community Foundation, we are strongly engaged with many local nonprofits such the Food Bank of South Jersey, Unforgotten Haven, Ronald McDonald House of Southern New Jersey, Cedar Run Wildlife Refuge, Cathedral Kitchen, as well as smaller-scale organizations focusing on hunger, health, or community connections.
We also take a very active role in the community-based, hunger-fighting initiatives of ShopRite Partners In Caring. Year-round efforts ramp up in September for Hunger Action Month, and Zallie Family Markets scores highly in the annual friendly competition of fundraising. To date, ShopRite team members have raised nearly $50 million for Partners In Caring – money that supports 2,200 charities working to fight hunger.
The Zallie Community Foundation operates a Pop-Up Food Pantry once a month in partnership with the Food Bank of South Jersey. The food pantry is located at Fawn Lake Village, 1004 Rt. 206 in Shamong, NJ. Food is available for distribution the 1st Thursday of every month from 11 am – 12 noon or until supplies run out.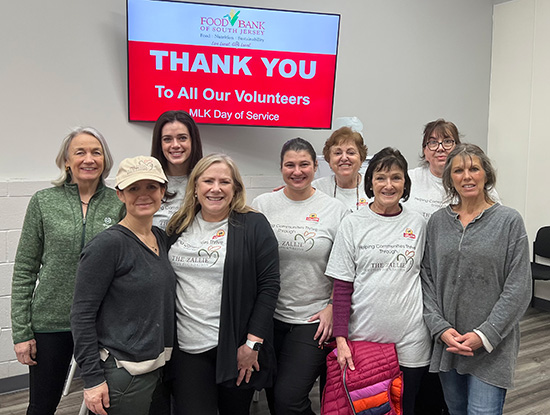 The Foundation dedicates its activities to three focus areas:
Health
We work with Registered Dietitian Nutritionists to foster health and well-being. We utilize social media and digital platforms to bring healthy living concepts to those in our geographic areas.
Hunger
We seek ways to alleviate food insecurity through our partnerships with food banks, through fundraising, and through grants from other nonprofits and government entities.
Community Connections
We are committed to encouraging social and emotional connections to help communities thrive. We help neighbors connect with their communities by sponsoring events that bring people together.
Apply for a Financial Grant or In-Kind Donation
The Zallie Community Foundation proudly helps many organizations fulfill their missions through either financial grants or in-kind donations. Nonprofit organizations may apply for a grant or donation through the Foundation's website.
Ways We Help Our Local Communities
Our group of volunteers assembled 150 snack packs for chemo patients as part of the many projects available at The Unforgotten Haven. The snack packs are distributed to adults going through chemotherapy at cancer centers where infusion takes place such as MD Anderson, Penn, Comprehensive Cancer Center, The Minniti Center, and several other locations. Almost 2,000 families located within the Zallie Family Market store locations received a turkey for the Holidays thanks to the generosity of the local store customers.
The Zallie Community Foundation provided a grant to NAMI of Gloucester County  so the organization could provide Christmas gift bags to 75 residents of Wedgewood Residential Healthcare.
Our group of volunteers helps to pack at the Food Bank of South Jersey's warehouse facility. These boxes will be sent to FBSJ's many local food agencies that help those who are food-insecure.