About Zallie Family Markets
Zallie Family Markets operates stores in Burlington, Camden and Gloucester counties (New Jersey) and in the Mayfair section of Philadelphia. While we're grounded in tradition, we take a contemporary approach to stocking our shelves and serving our guests.
Zallie's Fresh Kitchen is the hallmark of Zallie Family Markets stores. That moniker signals the personal attention and custom creations that come from our dedicated Team Members to our loyal guests. You won't find Zallie's Fresh Kitchen perfection anywhere else! It's more than a service. We recognize that your kitchen and your home are gathering places – the heart of interaction – and whatever you present there should reflect your tastes and make you proud.
Where Will You Find that Zallie's Touch?
We strive to exceed your expectations and provide various options to handle your Catering and Prepared Food needs. Our Zallie's Fresh Kitchen Culinary Team uses the freshest ingredients in our state-of-the-art kitchens to make sure you receive food that not only is delicious, but creative and beautiful as well. Remember that old saying, "We eat first with our eyes!"
Speaking of delicious and beautiful, you have to visit our Bakery! Zallie's Fresh Kitchen is known for its Italian desserts. That's no surprise! Bakers from Italy came here and shared their recipes and traditions with us. Our cookies and decadent desserts are hand-crafted and authentic, so we can provide you, your family, and friends with yummy treats.
We also care about your health and wellness. Zallie Family Markets proudly offers health and wellness services to our guests and communities. Our Healthy Communities Team provides a variety of services ranging from free nutrition counseling to on-demand nutrition classes. With the support and expertise of our Registered Dietitians, your health goals will be met with ease!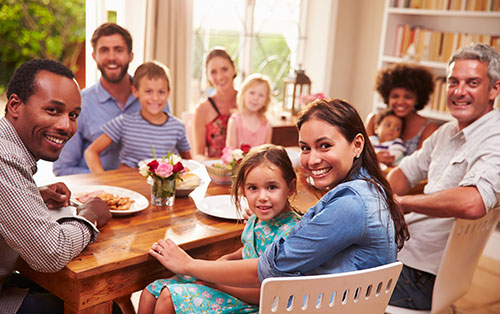 Core Values
Do What's Right. Respect Others. Do Our Best. 
These aren't just words. These represent who we are – a family who has been in the food business for nearly 70 years and takes enormous pride in the quality of our products and relentless attention to customer service. The customer always is our priority. We strive to provide exceptional service, and continually look for ways to better serve you. We appreciate and respect our guests as the integral focus of our company, and uphold our values with conviction. Our standard is superior quality products and services – and to provide them efficiently and effectively in order to exceed the expectations of our guests.
Community Support
We have a social responsibility to our guests, our local community, and the environment to act in an ethical manner that preserves our values. We are proud to contribute to local communities by supporting various causes, organizations, and our customers.
Learn More About Zallie Family Markets in Your Community:
Learn more about how we work with our partners at our community website: ZallieCommunityFoundation.org
Partners in Caring
Partners In Caring is the ShopRite initiative to help fight hunger within the communities we live and serve. Since its inception in 1999, ShopRite has raised over $60 million to provide support for 1,700 charities within the Northeast region. Local beneficiaries include Society of St. Vincent de Paul, Food Bank of South Jersey, and the Christian Caring Center. Last year, the ShopRite stores operating under the Zallie Fresh Markets brand raised more than $47,000 for Partners In Caring.
Our fundraising efforts take place year-round through various events in the store, with an emphasis on September as "Hunger Action Month." We could not achieve such success without our generous guests! Learn more about our local efforts at our Zallie Family Markets Community website.
Representing our communities through good corporate citizenship and philanthropy are our
social responsibilities.