Our History
When you visit a Zallie Family Markets store, we treat you like family. That's the Zallie way!
​Our roots, and our values, trace back to Mr. George Zallie, the youngest of six children whose father owned a grocery store in Ocean City, New Jersey. He literally grew up in the business! His father's store was a casualty of the Great Depression, but his entrepreneurial spirit stayed strong. He opened another grocery store in Philadelphia years later. Young George, challenged but resilient after the loss of his mother at the young age of 11, tried his hand at different jobs before following in his father's footsteps. In 1956, he opened his own small store on Somerset Street in Philadelphia's Port Richmond section. It was the kind of place where people saw their neighbors, knew the butcher, and felt comfortably welcomed.
In the 1960s, Mr. Zallie was among other small-store owners who leaned on a regional co-op to be competitive against chain supermarkets. As the population spread to the suburbs, so did his awareness that growth lay outside the city limits. He set his sights across the Delaware River, and in 1973 opened a Shop 'n Bag in Clementon, N.J.
In 1980, Mr. Zallie took a calculated risk to leave the chain realm and join retailer-owned cooperative Wakefern Food Corp. He was at the cusp of a mid-Atlantic wave of ShopRite stores that ultimately led to great success. By 1987, his three sons – George J., Bruce, and David – worked alongside him as the business gathered strength in South Jersey.
That's when Mr. Zallie opened his first "super" store with amenities that were at the forefront of convenience for guests. ShopRite of West Berlin opened with an on-site bakery, sit-down café, expanded deli and prepared foods, modern floral section, take-out pizza and seafood, an abundance of fresh produce, a pharmacy, even video rental! It set a high bar for the industry. The shift to the suburbs and the desire to focus on the needs of guests paid off as Mr. Zallie invested during a high-growth period.
"While we're grounded in tradition, we take a contemporary approach to stocking our shelves and serving our customers."
In the next 10 years, stores were converted from other owners or built from the ground up until there were 11 altogether, spanning from Medford to West Deptford and Williamstown to Knorr Street in Philadelphia. Meanwhile, Mr. Zallie's sons took more of a role in the day-to-day operations and the future forecast. George J. oversaw operations; Bruce took charge of merchandising; and David managed administrative aspects of the sprawling and successful business.
Mr. Zallie passed away in 2011. In 2020, George J. and Bruce retired, and all 11 stores were consolidated under the ownership of David Zallie and later renamed Zallie Family Markets. The third generation of Zallies includes Bruce's daughter, Giuliana, who is Director of Marketing.
The history of three generations with nearly 70 years dedicated to the grocery business means we take enormous pride in the quality of our products, and we pay relentless attention to customer service.
While we're grounded in tradition, we take a contemporary approach to stocking our shelves and serving our guests. You'll find the brands you've loved for years, as well as products that meet market trends. You can ask a butcher to cut a steak as thick as you like, and talk with a dietitian about our impressive selection of plant-based foods.
Zallie Family Markets operates stores in Burlington, Camden and Gloucester counties (New Jersey) and in the Mayfair section of Philadelphia.
Our Core Values
Do What's Right.
Customer service is always our priority. We strive to exceed the expectations of our guests, and we continually look for ways to better serve you.
Respect Others.
We place a high emphasis on respecting our fellow Team Members. We recognize that how our Team Members view their jobs impacts how they serve our guests.
Do Our Best.
Our standard is superior quality products and services – and to provide them efficiently and effectively in order to exceed the expectations of our guests.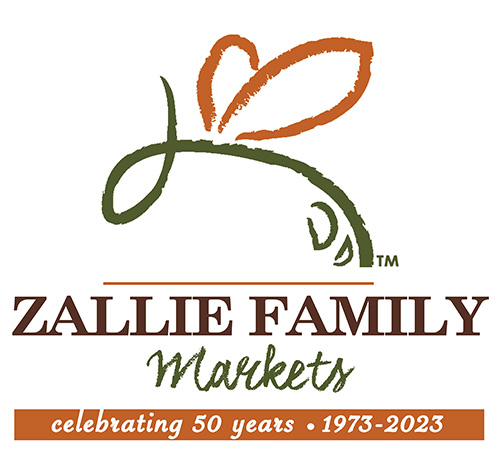 Zallie Family Markets employs about 2,500 people to successfully operate 11 stores, and is strongly committed to the communities where those stores are located. We happily continue the firm belief instilled by Mr. Zallie – it's all about our guests.
The Zallie name is our commitment to you. Whether you're one of our loyal guests or respected vendors, a hard-working team member or selfless community volunteer, you're family. That's the Zallie way!
Wakefern Food Corp. is an undisputed leader in food and beverage retailing, and its unique cooperative structure allows independent grocers to compete, and succeed, against multinational chains. It is the merchandising and distribution arm for ShopRite stores, and the largest retailer-owned cooperative in the United States. It is also the largest private employer in New Jersey. More than 50 members individually own and operate supermarkets under the ShopRite banner. Many are like Zallie Family Markets: They grew from being "mom and pop" stores into flourishing family-owned businesses with second, third, or even fourth generations at work.