Zallie Family Markets is proud to announce the Grand Prize winner of our 50th Anniversary Growing Winners Sweepstakes!
We were honored to celebrate the momentous occasion earlier this week with our winner, Sharon W. at the
ShopRite of Lawnside
.  Not only did Sharon receive a $5,000 ShopRite gift card, we also presented her with a beautiful floral arrangement and a special Zallie swag bag filled with goodies. Sharon accepted her gifts with David Zallie, Giuliana Zallie and the ShopRite of Lawnside's Store Director, Joe Kratchwell.
Sharon was ready to use some of her winnings to treat herself with her favorite Zallie's Fresh Kitchen meal, "The
Fried Chicken
and the
Coleslaw
are my absolute favorite and make the perfect combo." To Sharon, Zallie Family Markets delicious store-made food makes our ShopRite stores stand out from the rest. In addition, she stated that our customer service is always top quality and that our Team Members are diligent in keeping the store fully stocked and dedicated in assisting with finding products for guests. The most important factor to Sharon is feeling welcomed; "People care about each other. You can tell they care in the way that they treat you as a guest that feels like you are a part of the family, and so it makes me want to return."
Sharon has been shopping at Zallie Family Markets for as long as she can remember. When Sharon moved away for a period of time, she would make the extra trek to shop at a Zallie location, "It's like coming home when I come here." Sharon expressed, "This feeling of winning is extraordinary. I've never really won anything of any consequence, so this is huge. It's completely fate that I was here that day. When I won the very first time and then the second time, I said if I won the Grand Prize, I will pay it forward."
Of course, Sharon plans to use some of the grand prize for her groceries, but to Sharon there is a greater calling to help non-profits that are special to her. When she was a child, Sharon's family was food insecure a number of times off and on, so she has pledged to donate a portion of the reward to the
Food Bank of South Jersey
.  Sharon will also be shopping and providing food bags to her personal favorite charity,
Cathedral Kitchen
in Camden, NJ. Sharon joyously chuckled as she was already thinking of plans for the holidays, "My family gets together for Thanksgiving every year, so this year Thanksgiving will be on us!"
Sharon stated,  "I want to say how grateful I am that Zallie Family Markets would even offer this kind of gift to the community and that I would be someone so fortunate to be a recipient of the special gifts. I will be eternally grateful." As she personally experienced, not everyone is lucky enough to have food security; "I feel really blessed to be able to be in a place of stability now and thanks to the Zallie Family, I can pay it forward. This is important to me; I want to do this and I couldn't have without the generosity of Zallie Family Markets. I'm truly thankful.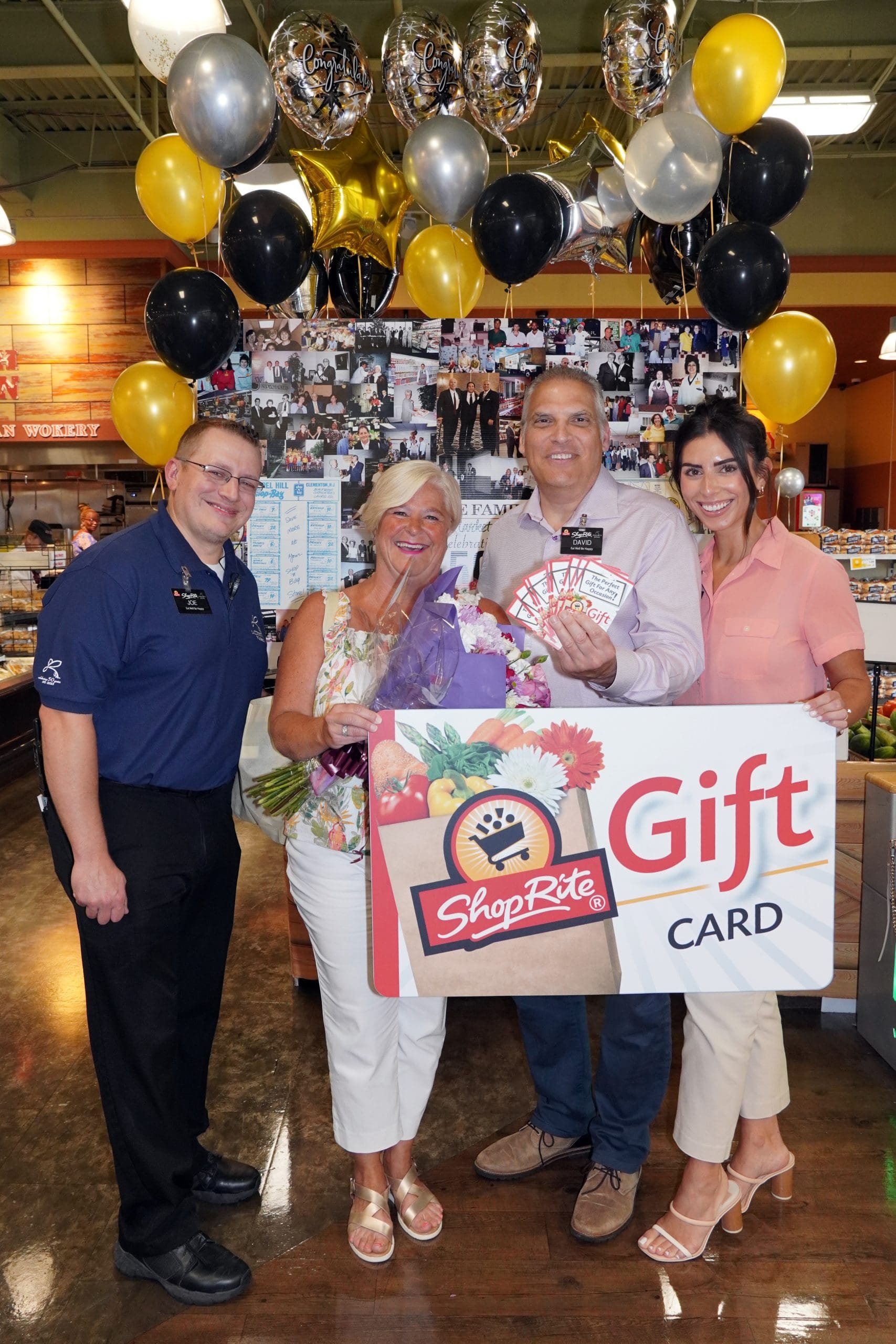 Pictured left to right: Joe Kratchwell, Sharon Wenner, David Zallie and Giuliana Zallie.